Sachin Tendulkar turns 50: Recalling Master Blaster's 10 great innings that ended in heartbreaking losses
8 min read
114 vs Australia, at WACA, 5th Test, 1992 India tour of Australia | One of the earliest instances of a Sachin Tendulkar special going in vain was during India's 1992 tour of Australia.
Tendulkar by then was three years old in Test cricket and two Test hundreds to his name and had already begun his love affair with Australia. In the fifth Test of the tour, Australia batted first and scored 346 on the back of hundred by David Boon, and fifties from captain Allan Border and Tom Moody. India's response to Australia's 346 was shaky as the team was reduced to 159/8 as Craig McDermott, Merv Hughes and Mike Whitney ripped apart India's top order. But a determined Tendulkar with the help of Kiran More kick-started India's fightback. On a difficult pitch to bat on Tendulkar put up a brave face and hit 16 fours en route to 114. Thanks to Tendulkar's efforts, India recovered from a sorry 159/8 to eventually getting all-out on 272. Australia built on the 74-run lead in their second innings as hundreds from Dean Jones and Tom Moody guided them to 367/6 d, thereby setting India a daunting target of 442. India were meek in the run chase and were shot out at just 141, thereby give Australia a win by 300 runs. In a match that saw four hundreds, two fifties and two five-wicket hauls, Tendulkar's 114 is still fondly recalled. (Image: Mid Day)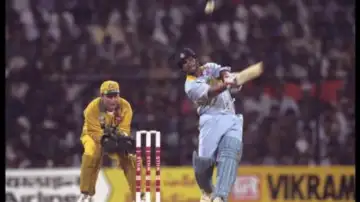 90 vs Australia, 1996, Wills World Cup, Wankhede Stadium, Mumbai | India and Australia crossed each other's paths during the 1996 Cricket World Cup at Sachin Tendulkar's home ground of Wankhede in Mumbai. Australia batted first. Aussie opener Mark Waugh scored a well-composed 126 in 135 deliveries and he was well-supported by captain Mark Taylor who paved his way to 59 in 73 deliveries as Australia eventually ended with 258. In the run chase Tendulkar thrilled his home crowd as he slammed 14 fours and a six en route to a 90 in 84 deliveries. At 143/4 India looked in control of the run chase however the rest of the batting simply collapsed and India were bowled out on just 242 handing Australia a win by 16 runs. (Image: AllSport UK Ltd)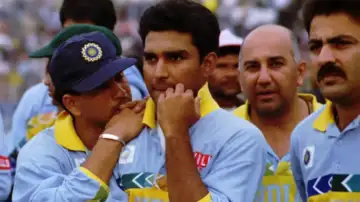 137 vs Sri Lanka, 1996, Wills World Cup, Feroz Shah Kotla, Delhi | India faced Sri Lanka twice during the 1996 Wills World Cup (50-over World Cup). The first time the two Asian teams locked horns was during the group stage matches at Delhi's Feroz Shah Kotla Stadium. On a tricky pitch, Sri Lankan captain Arjuna Ranatunga won the toss and opted to field first. India were 93/2 when Sachin Tendulkar joined forces with Indian captain Mohammad Azharuddin. From there Tendulkar and Azharuddin put up a huge partnership of 175 runs. During the course of the partnership Tendulkar hit a measured century, 137 in 137 balls hitting eight fours and five sixes, before a mix-up led to his dismissal. Azharuddin remained not-out on 72 in 80 balls as India finished with a strong total of 271/3 in 50 overs. But a target of 272 proved an easy one for Sri Lanka as its opener Sanath Jayasuriya blasted 79 from 76 balls, and Ranatunga and Harshan Tillakaratne scored unbeaten 46 and 70 respectively. Sri Lanka romped home in only 48.4 overs with 6 wickets intact. Needless to say, Tendulkar's hundred was wasted. (Image: AP)
169 vs South Africa, 2nd Test, Cape Town, 1997, India tour of South Africa| India's 1997 tour of South Africa began on a nightmarish tour as they were routed on on just 100 and 66 in their two innings of the first Test played in Durban. India had their backs against the wall in the second Test too as South Africa scored a mammoth529/7 d as Garry Kirsten and Brian McMillian hit 103 each. South African bowling attack then reduced India to 58/5. But Tendulkar, who was India's captain then, joined hands with Mohammad Azharuddin as the two batsmen started resurrecting the Indian innings. In a stunning display of counterblow Tendulkar hammered 169 in 254 balls and Azharuddin reached 115 in 110 deliveries to bail India out of another embarrassing situation. India were eventually bowled out on 359. South Africa scored 256/5 in their second outing thereby setting India a daunting target of 427. India succumbed to just 144 in there second innings as South Africa won the Test and the series. But Tendulkar's knock is still recalled with some sense of fears by South African players who played that Test. (Image: Reuters)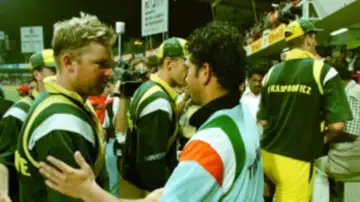 143 vs Australia, 6th Match of 1998 Coca-Cola Cup at Sharjah Cricket Stadium | This knock of Sachin Tendulkar is embedded in cricket folklore as the 'Desert Storm'. In the 6th match of the Coca-Cola Cup, India were up against Australia with the task of qualifying for the final ahead of them. Riding high on Mark Waugh's 81 and Michael Bevan's 101, Australia scored 284/7. A brilliant display of solitary effort Sachin Tendulkar hammered 143 in only 131 balls. It is also a match best remembered for Tendulkar's titanic tussle with legendary leg spinner Shane Warne. Tendulkar's innings comprised of nine fours and five sixes as it kept Australia anxious. Like most of his innings discussed here, there was a little contribution from the rest of the Indian batsmen as India could manage 250/5 in 46 overs. (The Indian innings was trimmed down to 46 overs as as actual desert storm had hit the stadium, stopping the play for a while.). But Tendulkar's valiant effort made sure that India qualified for the final, knocking out New Zealand in the process. India and Australia locked horns in the final again and this time India ended up on the winning side, and guess who scored a hundred in the final too! (Image: AFP)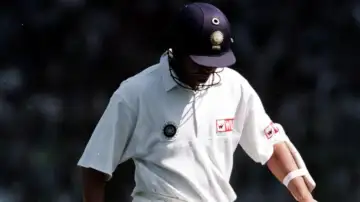 136 vs Pakistan, MA Chidambaram Stadium, 1st Test, 1999 Pakistan tour of India | Pakistan toured India in 1999 to play three Tests and seven ODIs. The inaugural match of the Test series was played at Chennai's MA Chidambaram Stadium. Pakistan were off to a slow start as they were bowled out on just 238 thanks to a 6-wicket haul by Anil Kumble and 3 wickets by Javagal Srinath. In reply India could manage 254 as Rahul Dravid and Sourav Ganguly scored half centuries. Pakistan went into their second innings trailing India by 16 runs. But a counter-attacking 141 by Shahid Afridi and half-century by Inzamam ul Haq helped them to a total of 286, thereby setting India a target of 271. India were off to a poor start in the chase as they were reduced to 50/3. But Tendulkar was determined to guide India home. Tendulkar battled a severe back pain as he hit a hundred to take India near the finish line. Unfortunately Pakistan kept picking wickets from the other end. Tendulkar was eventually out on 136 with India's score reading 254/7. The next three wickets fell for just for four more runs as India were bowled out on 258, 12 runs short of the target. Sachin' was awarded the Player of the Match award but his bravery could not result in a win yet again! (Image: AFP)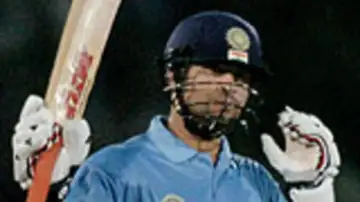 141 vs Pakistan, 2nd ODI, Rawalpindi Cricket Stadium, 2004 India tour of Pakistan | After suspending their bilateral cricket ties for a few years, India and Pakistan resumed their cricket rivalry with India's tour of Pakistan in 2004. India played 5 ODIs and 3 Tests on the tour. In the 2nd ODI played at Rawalpindi, Pakistan batting first posted a monumental total of 329/6 as its openers Yasir Hameed and Shahid Afridi scored 86 and 80 respectively. With a mountain to climb to win the match, Tendulkar hit a masterly hundred, the first ODI hundred by an Indian on Pakistan soil. Sadly, Tendulkar kept running out of partners Tendulkar eventually scored 141 in 135 deliveries but failed to guide India home. Tendulkar was the lone Indian man who fought hard that day as the next highest score by an Indian batter was 36 by Rahul Dravid. India were all-out on 317 thereby handing Pakistan a win by 12 runs. (Image: AFP)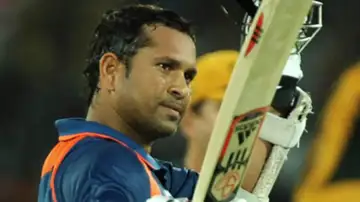 175 vs Australia, at Rajiv Gandhi International Stadium, Uppal, Hyderabad, 5th ODI 2009 Australia tour of India| Another Sachin Tendulkar-ton against Australia that could not help India to a win was The Little Master's 175 against the Aussies in the 5th ODI of the seven-match series in 2009.Heading into the fifth match the series was poised to 2-2. In Hyderabad, Australia batted first and mounted a monumental total of 350/4 as opener Shaun Marsh hit a hundred and Shane Watson (93) and Cameron White (57) scored impressive half-centuries. India's reply was disappointing as Virender Sehwag, Gautam Gambhir, Yuvraj Singh, MS Dhoni all were dismissed cheaply. But Tendulkar was not the one to give up. Despite the falling wickets from one end, Tendulkar notched a brilliant counter-attacking hundred. Tendulkar found little support from Suresh Raina, who scored a run a ball 59, late in the innings as the chase stretched into its final overs. At one stage, India's win and Tendulkar's doube-hundred looked imminent. However Australian fast bowler Clint McKay outfoxed Tendulkar in the 48th over thereby ending his innings on 175. Sachin was dismissed when India were only 19 runs away from the win with 3 wickets still in hand. The rest of the Indian batters tried hard by India eventually fell short by mere 3 runs. Sachin's won plaudits from his solitary efforts but sadly for Sachin himself those efforts were not good enough. (Image: AFP)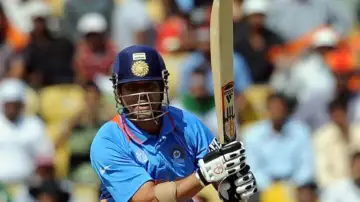 111 vs South Africa, 2011 ICC Cricket World Cup, Vidarbha Cricket Association Stadium, Jamtha, Nagpur | India and South Africa face-off in a crucial group stage match of the 2011 ICC Cricket World Cup at Vidarbha Cricket Association Stadium, Jamtha, Nagpur. India captain MS Dhoni won the toss and elected to bat first. India were off to a flying start as Virender Sehwag hit 73 in only 66 balls with Sachin Tendulkar also going strong. Sehwag got out in the 18th over with score reading 142/1. Then Tendulkar carried forward the good work as he hit his 48th ODI hundred. Tendulkar ward off challenge from the likes of Dale Steyn, Morne Morkel Jacques Kallis and Robin Petersen to score 111 in only 101 deliveries. Gautam Gambir hit 69 but other Indian batters surrendered against Steyn's pace as the South African speedster finished with 5/50 and India could only score 296 from a position of relative strength. Kallis and AB de Villiers notched half centuries in the chase and some lusty blows by lower order batters ensured that South Africa reached the target in 49.4 overs. South Africa made sure that Tendulkar's hundred went in vain. (Image: AFP)
114 vs Bangaladesh. Mirpur, 4th Match of 2012 Asia Cup | Perhaps the most iconic innings of Sachin Tendulkar that could not help India win was his 100th and final international hundred. After a prolonged dry spell, Tendulkar eventually reached the much anticipated 100th international ton during the 2012 Asia Cup in a match against Bangladesh at Mirpur. Sachin crawled his way to 114 in 147 balls to reach the landmark. The Indian innings saw fifties from Virat Kohli and Suresh Raina as the team finished with 289/5 in 50 overs. Bangladesh were clinical in the runchase right from the outset as opener Tamim Iqbal cracked 70. There were also valuable contributions from Jahurul Islam (53 in 68 balls), Nasir Hossain (54 in 58 balls), Shakib Al Hasan (49 in 31 balls) and Mushfiqur Rahim (46 in 25 balls) as Bangladesh reached the target in 49.3 overs with the loss of 5 wickets. Sachin Tendulkar's 100th and final international hundred had also ended with India losing the match.