Metro Diaries: From 'Passionate Kiss' To 'Girl In Bikini' – 5 Incidents That Left Commuters Shocked
2 min read
Delhi Metro – touted to be the lifeline of national capitals' residents' – often trends on social media for bizarre reasons.
All kind of incidents – from kissing to walking in underwear and urinating in public – that are not supposed to take place in public have been seen inside the Delhi Metro. The latest in this series is video of a couple's passionate kiss – that has gone viral on social media.
Here's a look back at the top 5 controversial incidents inside the Delhi Metro.
1. Couple's 'Passionate Kiss': Recently, a video of a couple kissing each other inside a coach of Delhi metro has gone viral on social media. In the video, one can see the boy sitting on the floor with his girlfriend lying on his lap. Soon the couple is seen locking lips in public without any hesitation. The couple's video has now gone viral and Delhi Metro has even shared a stern warning against such incidents.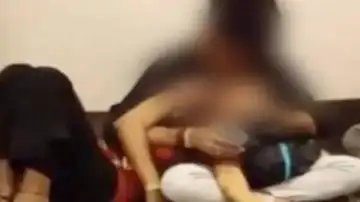 2. Matrubation: A few days ago, a video of a young man, allegedly masturbating inside the Delhi metro had gone viral on social media. The Delhi Commission for Women Chairperson, Swati Maliwal even issued a notice to Delhi Police after the video of the man reportedly indulging in the obscene act was widely circulated on social media. Following this incident, Delhi Metro Rail Corporation issued a notice urging people to behave decently and responsibly while travelling in the metro.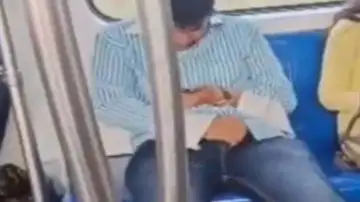 3. 'Bikini Woman': Recently, video of a woman wearing a mini skirt and a bikini on the Delhi metro went viral. The girl was later identified as Delhi-based model and inluencer Rhythm Chanana who claimed that she has "always travelled in public transports in such attires". However, Rhythm Chanana's attire sparked debate online, with some people supporting her act as a "right to choice". In the video, which went viral, Rythm was seen sitting among passengers with a backpack on her lap while she was wearing a small skirt and a bralette. The Delhi Metro Rail Corporation even issued a statement asking passengers to follow social etiquette which is acceptable in society.
4. Boys wearing skirts: After the video of a girl in a bikini, a video of two boys wearing skirts surfaced. In the viral video, both men were seen flaunting their skirts, breaking stereotypes surrounding clothing. In the video, passengers around them are staring at them in shock and surprise. The incident sparked a debate on the internet, many supported the boys for their styling while many criticised them.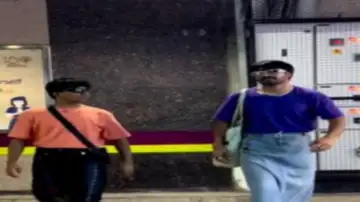 5. Urinating on tracks: In another shocking video, a man was filmed urinating at a Delhi Metro station track. The man was reportedly drunk. In the video, the individual recording the video could be heard asking, "where are you urinating? Why are you urinating here." While the man replies, "Ho gaya, zyada ho gaya."