Kabira Mobility Reveals KM5000 Electric Cruiser Motorcycle In India With 344 Km Range
2 min read
Kabira Mobility has taken the wraps off the KM5000 – the newest flagship electric bike model in its lineup. The KM5000 boasts the title of India's fastest and longest-riding electric bike, designed with bike enthusiasts, adventurers, and thrill-seekers in mind.
Packed with features and industry-leading specifications, the KM5000 will sell in a total of three paint schemes, namely Midnight Grey, Deep Khaki, and Aquamarine. Prices start at Rs 3.15 lakh, ex-showroom. The KM5000 is expected to be launched by Fall 2023, and deliveries will commence next year. This is the fourth model in Kabira Mobility's line-up.
The KM5000's electric cruiser design incorporates India's first single-sided swing arm, powered by a patented mid-drive powertrain developed by Kabira Mobility in collaboration with DeltaEV. This groundbreaking combination enables riders to reach top speeds of up to 188 km/h, making it the fastest electric bike on Indian roads to date.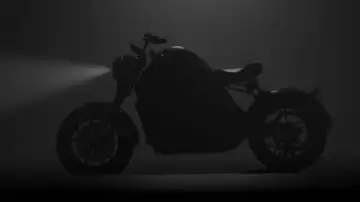 Equipped with an 11.6 kWh water-cooled LFP battery pack, the bike offers an unrivaled 344 km range on a single charge. Kabira Mobility's in-depth technical expertise in battery pack development has allowed the creation of a sophisticated, high-performance battery system, one of the largest for a two-wheeler to date.
The KM5000 comes with two types of charging options: a high-speed boost charger that can charge the vehicle from 0 to 80% in less than 2 hours and a standard charger for overnight charging.
The bike features a 7-inch smart touch screen digital dashboard with 4G connectivity, providing riders with a smart, seamless, and connected vehicle experience. The dashboard offers turn-by-turn navigation, music control, and provides in-depth vehicle information and riding habits to the rider. The dashboard also displays battery health and information and has smart diagnostics features, allowing the rider to keep the vehicle in perfect condition.
Electric Scooters To Get Expensive? Govt Likely To Reduce Subsidies Under FAME-II
KM5000 is equipped with twin front and single rear disc brakes with dual channel ABS, providing improved safety and control. The bike is fitted with Nitrox rear suspensions and inverted front forks by Showa, ensuring a comfortable riding experience even on longer rides.
The KM5000 also has other smart features such as a tire pressure monitoring system (TPMS), side step, saree guard, fast charging, park assist, fall sensors, and elevation stabilizer, among many others. It is equipped with projector headlamps for improved visibility while riding, and features front and rear LED headlamps and indicators with DRLs.